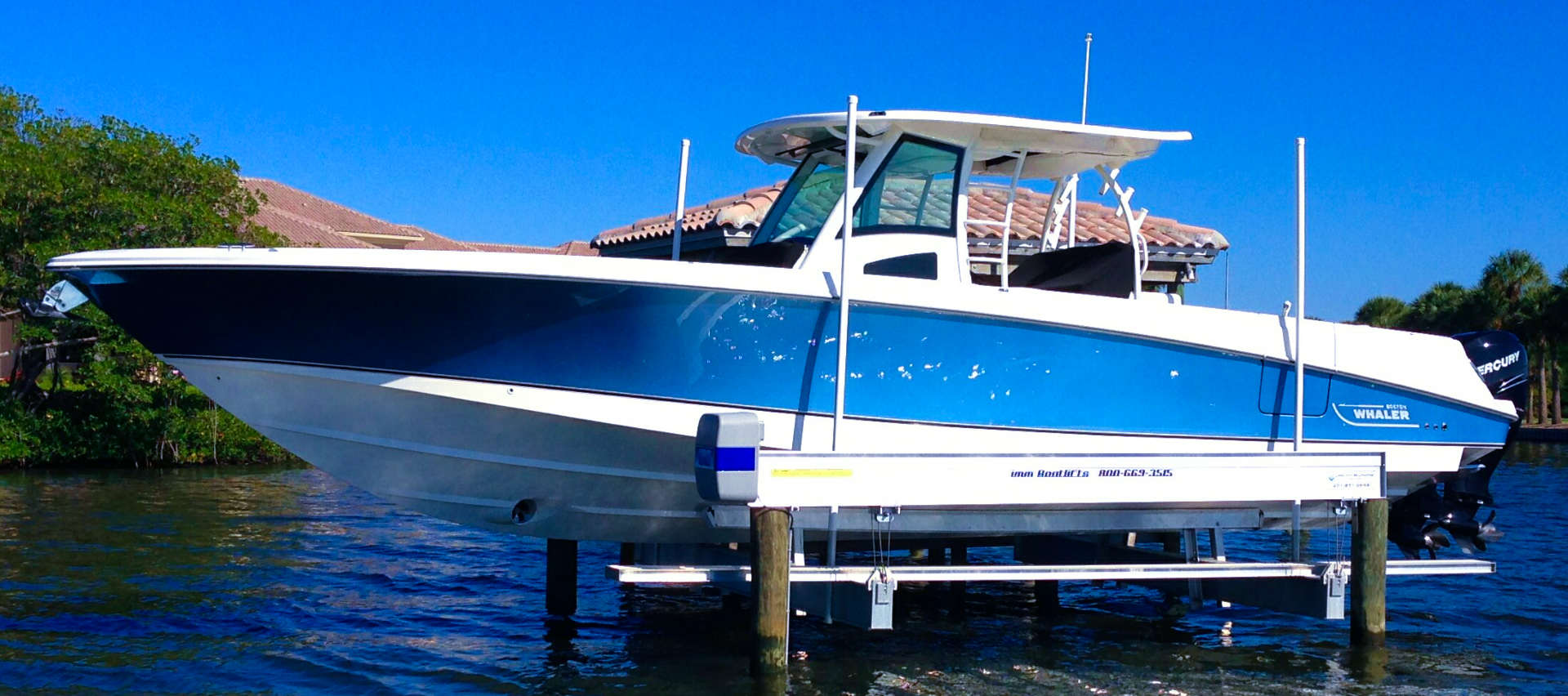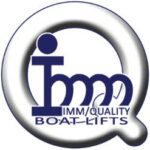 Land And Sea Marine, Inc. is a factory authorized dealer for IMM Quality™ Boat Lifts.
There are a variety of boat lifts available today using different designs, metals, gears, motors and accessories. After a site examination and a review of the specifications of the vessel intended for use, Land and Sea Marine will recommend a lift that will provide years of smooth, safe and convenient operation while staying within that ever-important budget.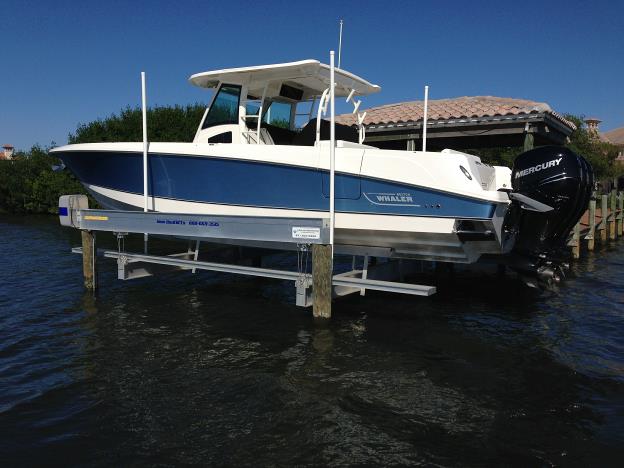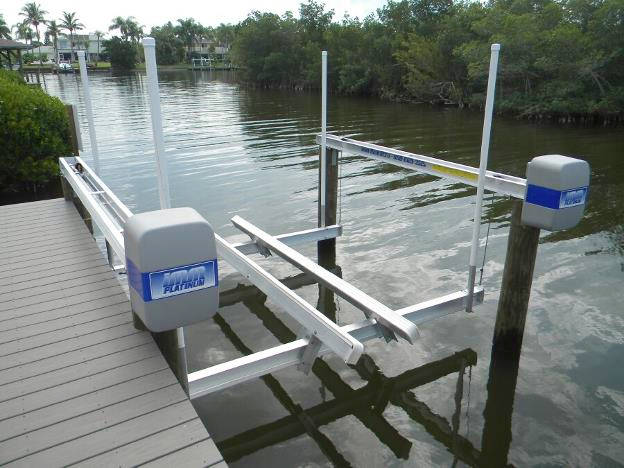 The lift structures are manufactured locally in the United States of America with precision detail and design. They feature all aluminum and stainless steel structures designed for modern boat lifting. The most important options you need to consider in selecting a boat lift that is right for your use and budget requirements are in the weight capacity, motors and drive gears. While there are many other accessories available for your new lift, the weight capacity, motors and drives are the most important factors in determining the performance, maintenance requirements and lifespan of your new boat lift. With the exception of the bunks, the main lift structures from IMM Quality™ Boat Lifts will be the same with either an Alumavator™ Series or a Platinum™ Series lift.
Alumavator Series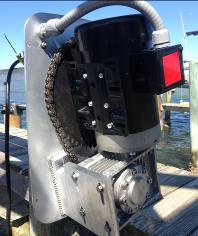 The Alumavator features a no slip chain drive with a self lubricated oil bath gear reducer and weather proof motors mounted to a stainless steel back plate and enclosed in UV resistant vinyl shrouds (Seen below) for reliability in all conditions.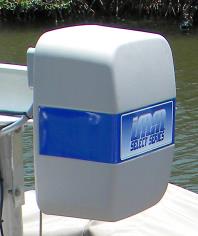 All Alumavator Series Lifts include a Bonita manual controller with a self contained switch box with inline GFCI protection.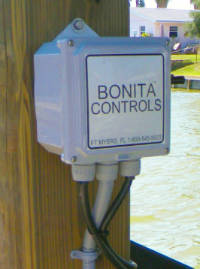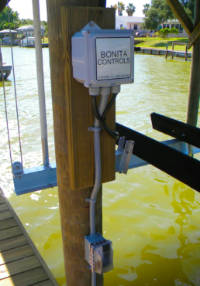 Standard on Alumavator Series lifts

3″ x 8″ marine timbers fully covered with marine carpeting and mounted with aluminum bunk brackets on standard aluminum lift cradles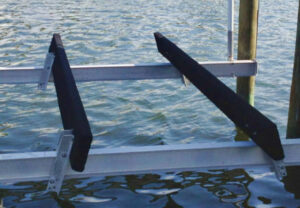 Platnium Series
The Platinum Series features an aluminum cased double worm direct drive gear for the ultimate in fail safe low maintenance operation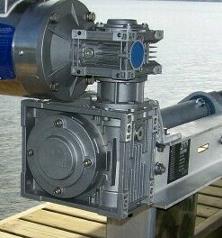 When the Platinum Series 4 Piling lift installation is complete, the gear and motor assembly is fully enclosed inside a UV resistant vinyl shroud with a aluminum back plate. This prevents surface corrosion and provides a clean, compact result.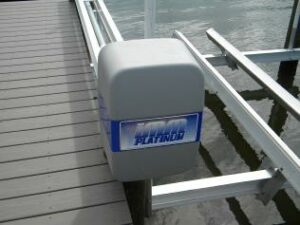 GEM™ Remote Control Unit
The Platinum Series also features the GEM™ remote control unit, which will provide years of care free, remote operation (see below).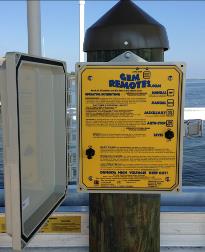 We also include an "auto-stop" limit switch feature to the remote control on all Platinum Series lifts.
This is a small mechanism installed on the upper beam that includes contactors for the up and down cycles of the lift. These contactors are set by us at installation and they tell the lift when to stop when it reaches its down stroke and up stroke. This enables you to motor away from the lift after launch and raise the lift out of the water remotely, and not have to stay at the lift and monitor the progress. It is most important on the down stroke as it automatically stops the lift prior to the cradles contacting the river bottom, thus preventing any slack and subsequent misalignment of the cables at the drive pipe.
Standard on Platnum Series lifts. Aluminum bunks with poly skids for strength, durability and safety.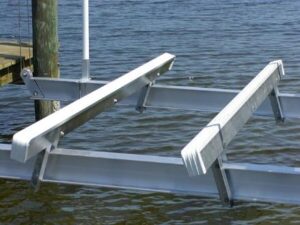 Features and Options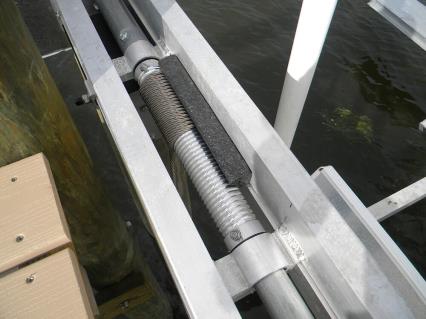 Both the Alumavator Series and the Platinum Series feature Grooved Cable Winders . The grooved winder is a grooved aluminum sleeve installed over the drive pipe to guide the stainless steel cable during wind up. Cable to cable friction promotes cable deterioration. Grooved winders prevent cable friction, tangling and misalignment. All structural components and hardware are aluminum and stainless steel.
Optional Components
20' Aluminum Walk Board for easy access to seaward side of vessel when lifted.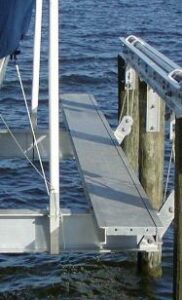 Kicked Cradles conform to shallow water conditions closest to shore for extended downward lift travel.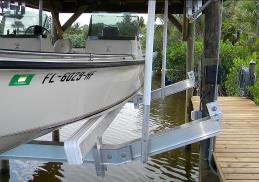 Aluminum top beam cover to conceal mechanical elements of beam assebly and provide a safe step area for ingress and egress from the vessel.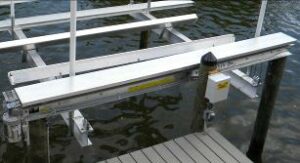 Flat aluminum bunks with poly skids can be installed for pontoon, tri-toon or catamaran lifting requirements.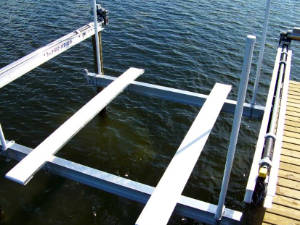 Boathouse Mounted Lifts
Our Boat House mounted lifts are mounted on a bracket system suspended from heavy structural roof beams, thus eliminating the need for top support beams for the lift. A great alterative when width allowances might be restricted.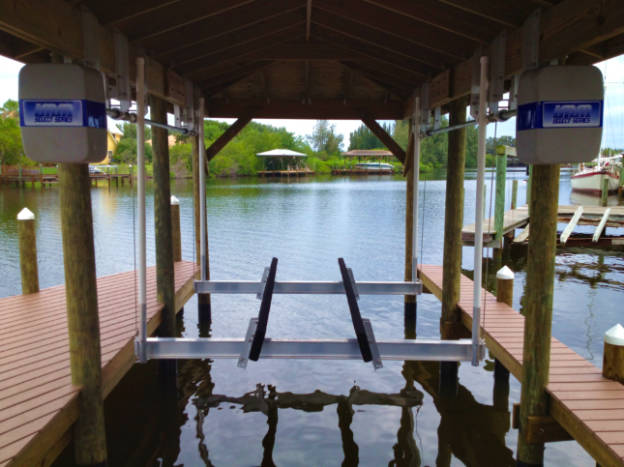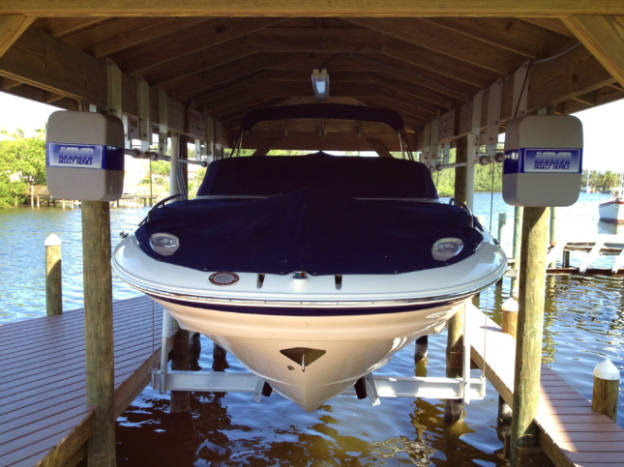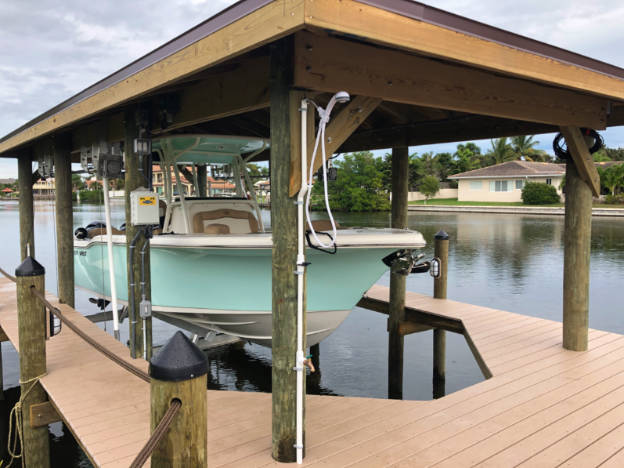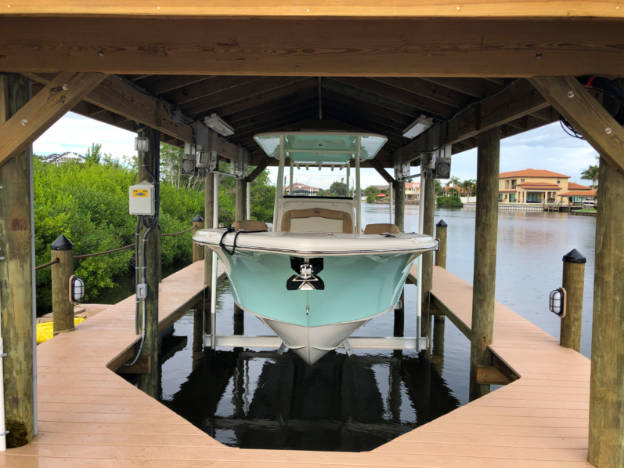 Piling Mounted Lifts
This is our high-profile installation designed for extended lifting height and easy access under the lift structures.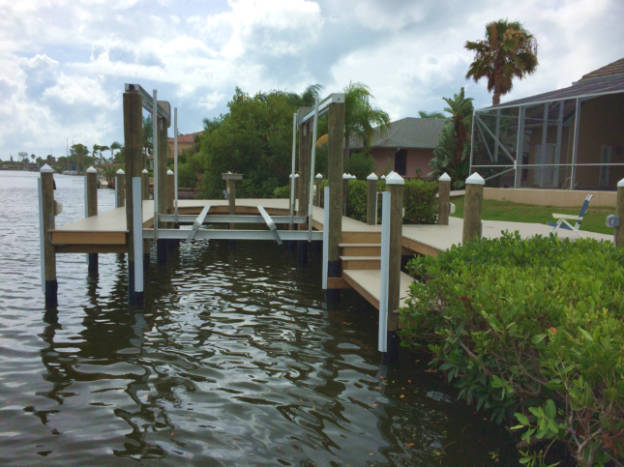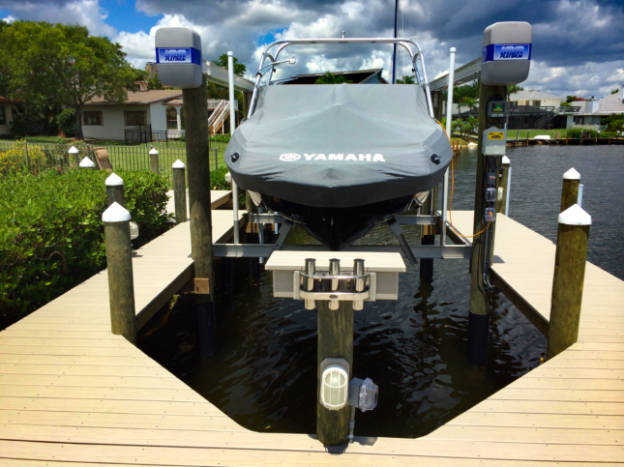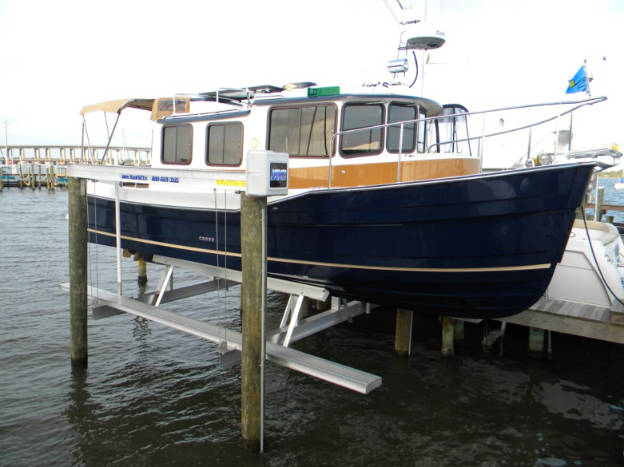 This is our low-profile installation designed for easy access to any part of the vessel, as well as a lower center of gravity for controlled storage and wind resistance. (See pictures below)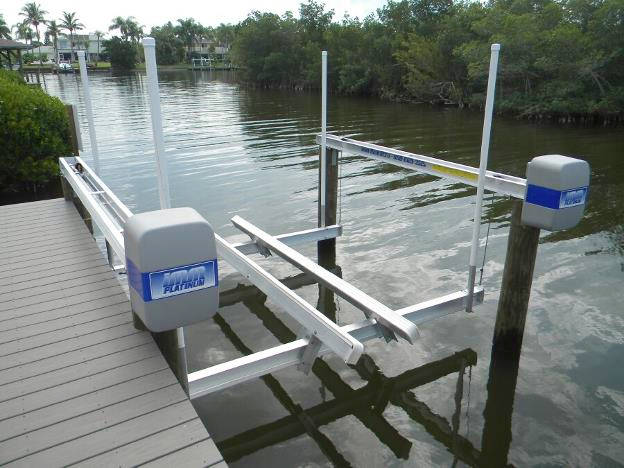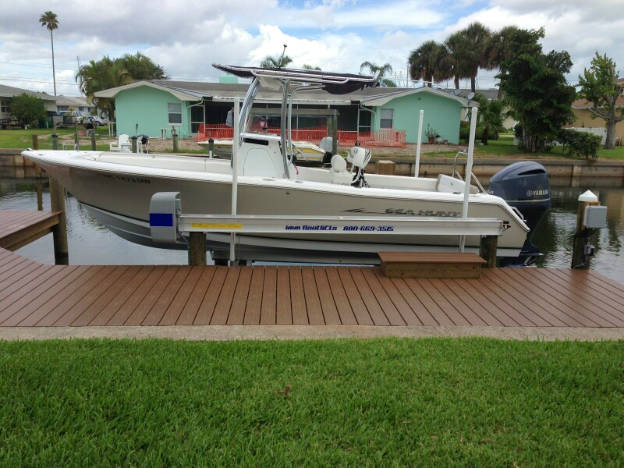 High Capacity Boat Lifts
These are examples of a 20,000 lb capacity four piling 4 motor platinum series lift and high capacity 40,000 lb 8 piling 8 motor gear drive lift.. the ultimate in big vessel lifting.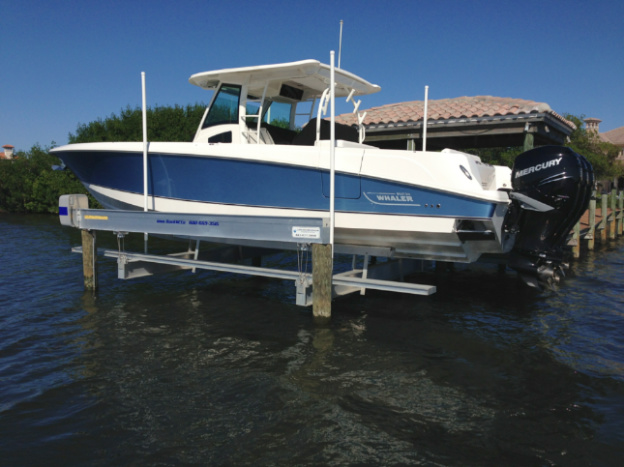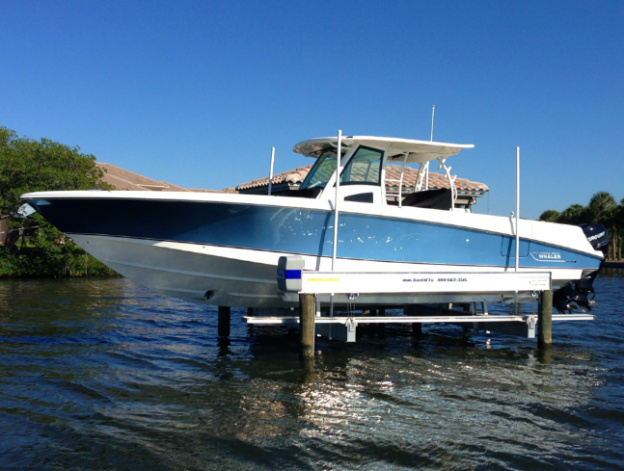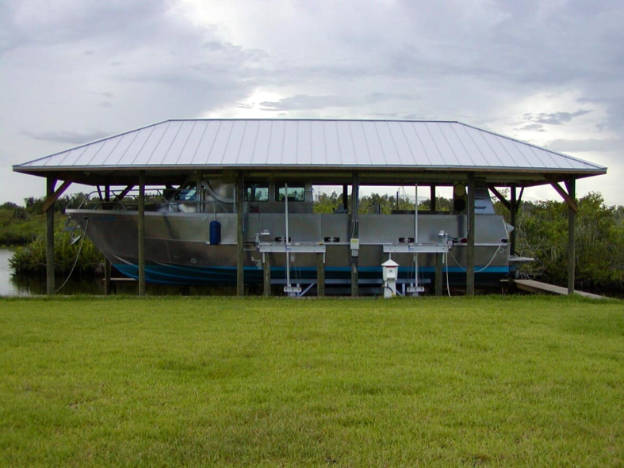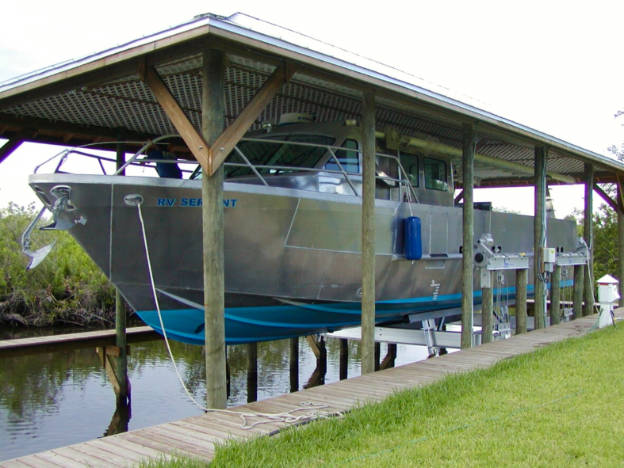 Personal Watercraft Lifts
Land And Sea Marine provides PWC lifts installed to order including 1,500 lb and 3,000 lb capacity as a rotating lift or a stationary lift. All come with all aluminum structures including the drive gear back plate. A convenient and hassle free solution to regular use and maintenance of your PWC.
(1,500 lb rotating lift- See pictures below)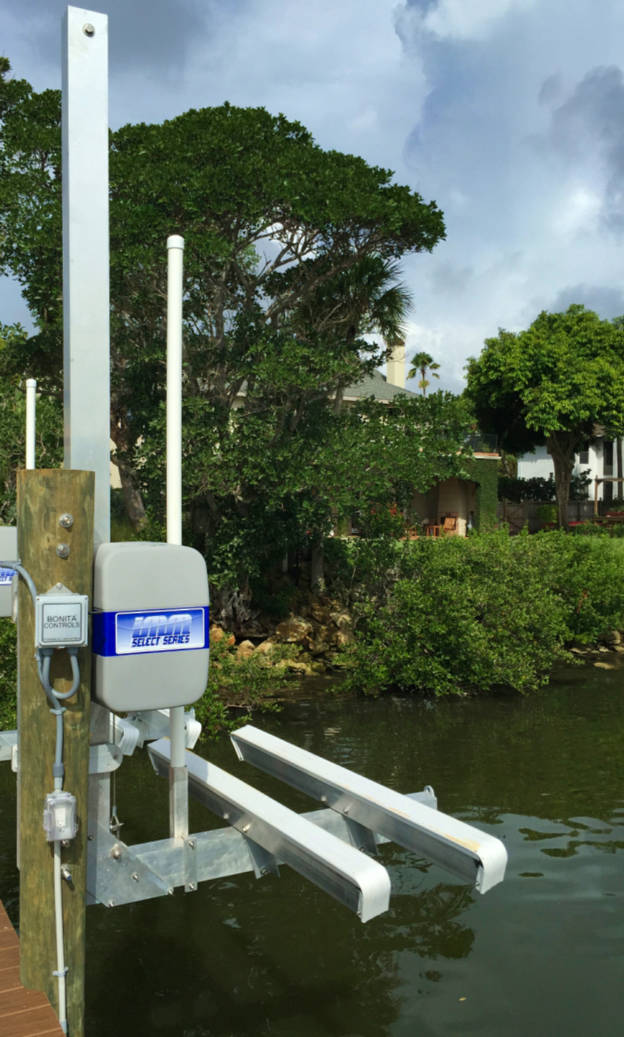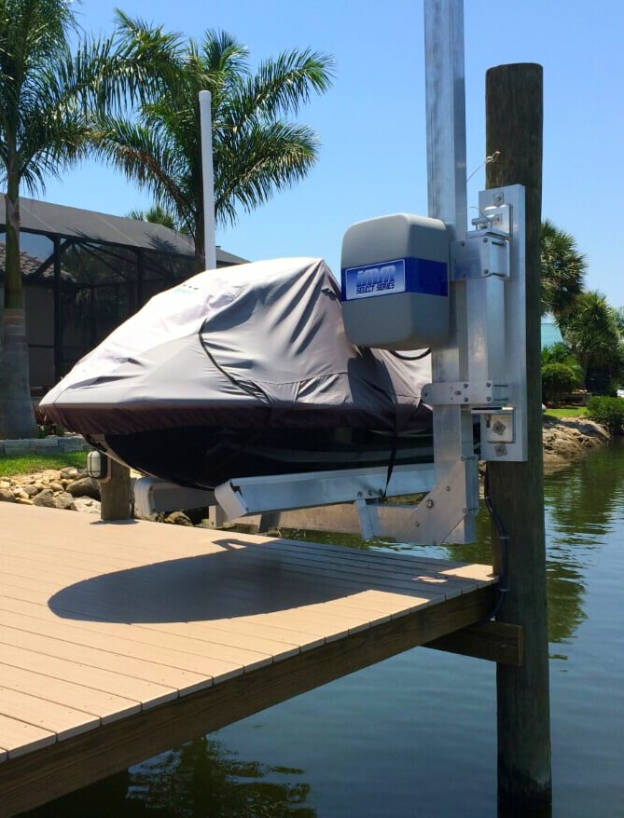 (3,000 lb rotating lift- See below)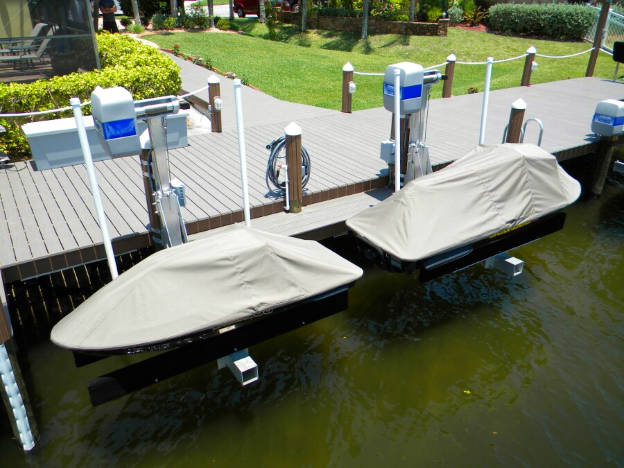 STATE CERTIFIED GENERAL CONTRACTOR #CGC1515639