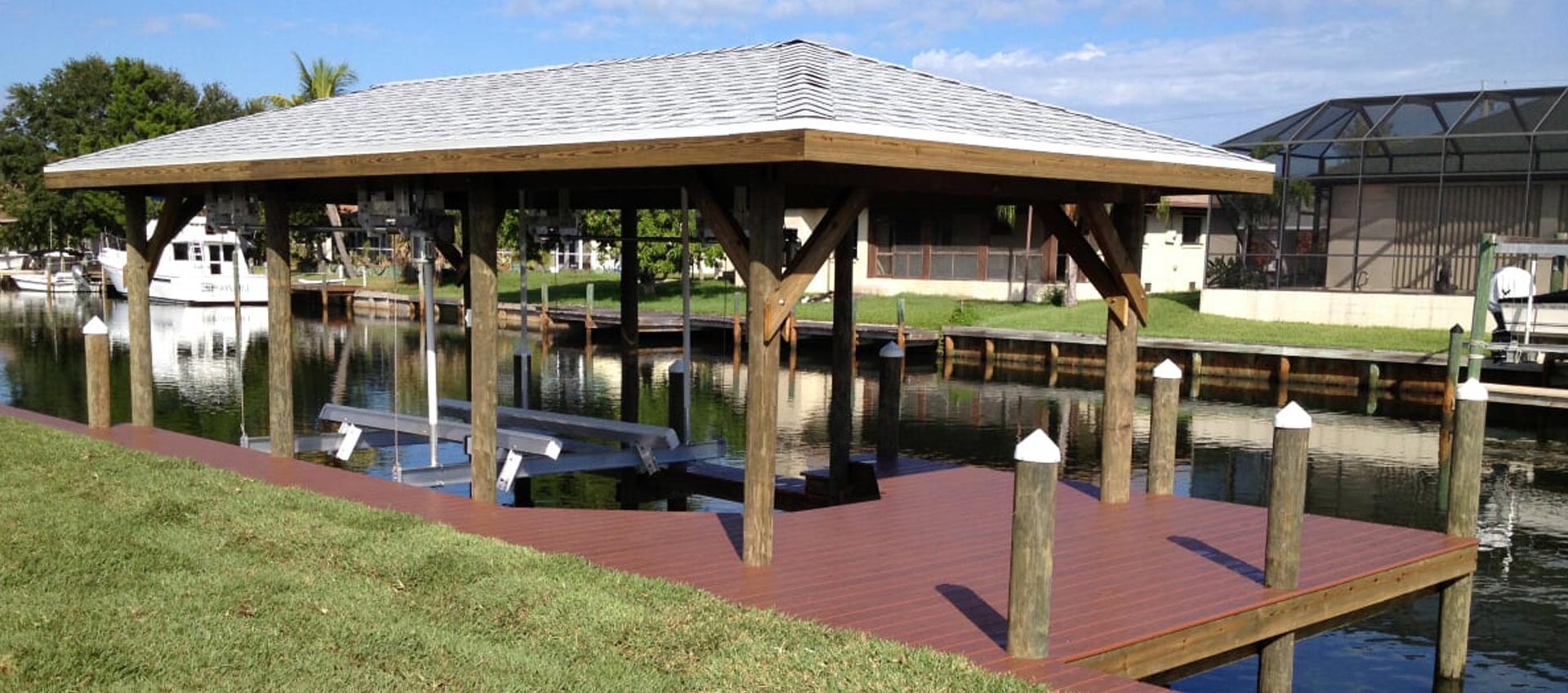 TAKE A CANAL DOCK PROJECT PHOTO TOUR  ……
Select a project from the list below, scan the thumbnail images or click any image to enlarge and begin your photo slide show of the project for a closer look.  Or, scroll down this page for an overview and be sure to click NEXT to continue to the next page of projects  If you find one that will suit your needs, make note of the image name when contacting us for more information.
Sunnyland Beach Classic
This is a classic dock and boathouse with added features including a roof that extends partially over the deck area, a stepped down finger pier on the outside for easy boarding and loading and Azek™ vinyl decking throughout.  The seawall that we installed on this project combined dock decking with the seawall cap to extend the usable space of the dock.
Satellite Beach with Large Deck
This dock and boathouse features a long kayak and paddleboard launch and eased edge #1 dense select structural (DSS) wood decking for a natural look.
Cocoa Beach Boater
This open dock and boat lift features a large deck area and kayak launch.  We also installed the seawall in this project and installed the Azek™ vinyl decking throughout the seawall cap and dock. You will need a wide canal to properly permit this dock.
Grand Canal Angled Boathouse
Here is a unique dock and boathouse on the Grand Canal in Satellite Beach.  It features an angled slip for ease of docking,
Azek™ vinyl decking and a white standing seam metal roof.
Tortoise Island Boaters Dream
This canal dock in Satellite Beach is a boaters dream with Azek™ vinyl decking, a Platinum boat life and two PWC lifts for the ultimate in watersports.
Lansing Island Step Down
This spacious dock and boathouse on the Grand Canal in Satellite Beach sports a stepped entry and a serrated metal roof.

Continue viewing our Canal Dock Project Gallery …  click NEXT
STATE CERTIFIED GENERAL CONTRACTOR #CGC1515639