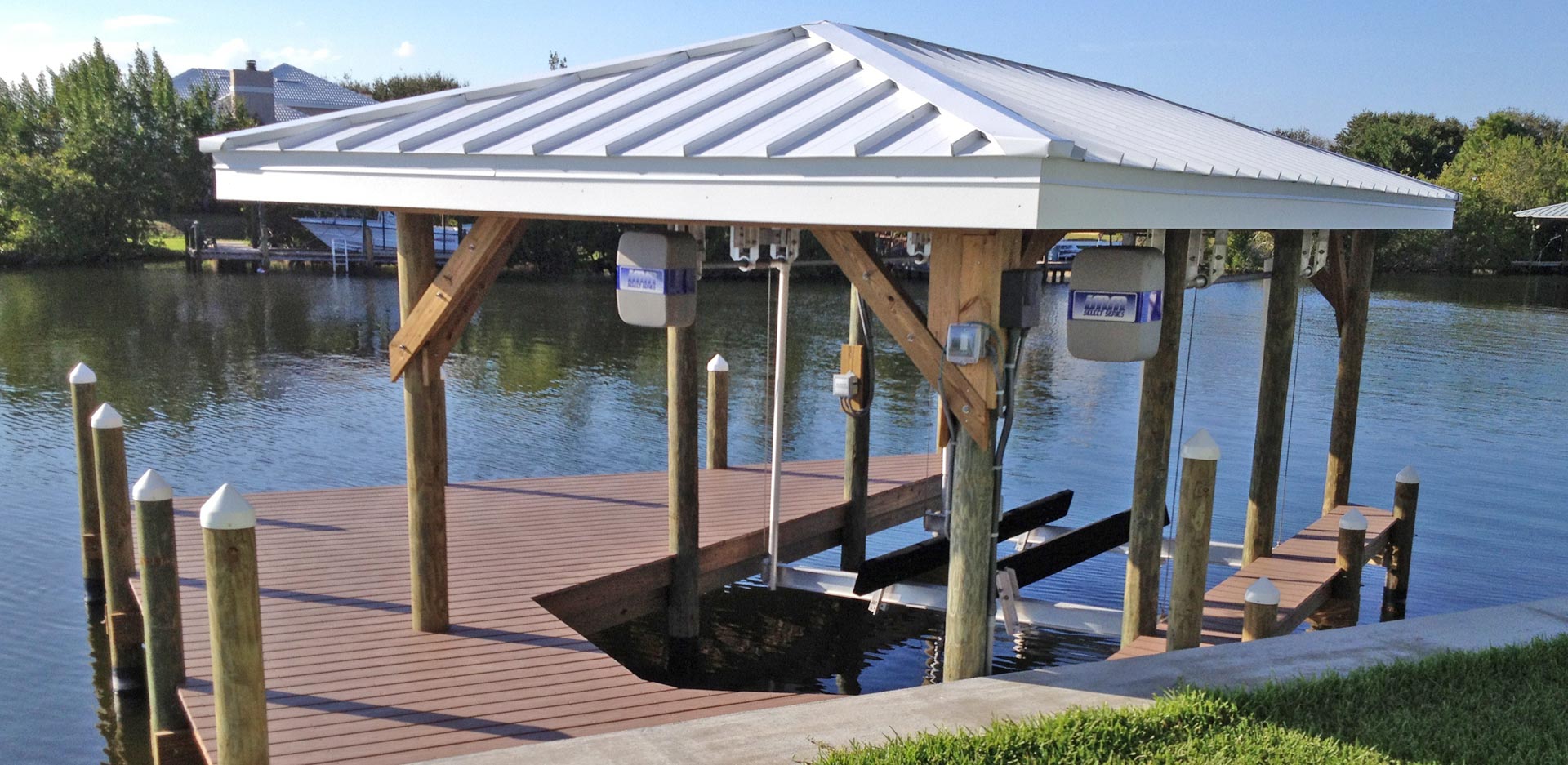 TAKE A CANAL DOCK PROJECT PHOTO TOUR  ……
Select a project from the list below, scan the thumbnail images or click any image to enlarge and begin your photo slide show of the project for a closer look.  Or, scroll down this page for an overview and be sure to click NEXT to continue to the next page of projects  If you find one that will suit your needs, make note of the image name when contacting us for more information.
Floridana Beach Shoreline
This unique dock and boathouse in Melbourne Beach has a large entry with angled deck and a new lift with kicked cradle beams for maximum lift use in a shallow shoreline.
Indian Harbour Paddleboard Dock
This is a large open dock and lift in Indian Harbour Beach that features Azek™ vinyl decking, a stepped paddleboard launch and lighting throughout.
Harbor East Timber Guard
This open dock in Melbourne Beach is the ultimate in longlasting and durable construction with Timberguard™ vinyl shrink wrapped pilings, Azek™ vinyl decking and frame skirtng and a 20,000 lb. Platinum boat lift.
Satellite Beach Classic
Another great Land and Sea Marine seawall, dock and boathouse in Satellite Beach
Melbourne Beach Dock and Boardwalk
This unique seawall, dock, boardwalk, boathouse and boat lift in Melbourne Beach speaks for itself with Azek™ vinyl decking, a stepped kayak launch and a full lighting package.
Cocoa Beach Open Concept
Here's a nice open dock and boat lift in Cocoa Beach that we installed after installing a flat panel concrete cap seawall.

Continue viewing our Canal Dock Project Gallery …  click NEXT